ITSM solution for legal practices
A simple, powerful ITSM solution, delivered by experts
Trusted by 100,000+ people across 40+ countries to deliver their IT solution
Streamline processes with HaloITSM
Whether you're a law firm or part of a legal team, having an ITSM tool is critical for streamlining and managing processes. With the need for full history on all incidents, alongside sticking to SLAs to avoid legal conflicts, a centralised system to communicate and collaborate is imperative.
Streamlining processes and providing transparency whilst managing and justifying load, alongside top security measures is why many legal teams choose HaloITSM as their IT Service Management provider.

Stay in Sync with One Centralised System
With legal teams being involved throughout many organisations, one centralised system is necessary for the visibility of projects and tasks. Easily assign users to tasks, track your teams' work, integrate your apps and connect your calendar to sync all your meetings and appointments.
No more switching between mailboxes
Record all telephone conversations in one system
Add team members to a project
Complete communication history
Real Time Project Dashboards
With so much work, it's important to be able to allocate workload and resources effectively throughout your legal team. With the reporting functionality, you can see the work completed by the teams. You will be able to share a live view of all projects on the go to gain clarity and visibility. This simple dashboard updates automatically, so you can keep track of projects and make resource spend transparent.
Easily gauge team and individual performances
Management can clearly see team efforts
Justify resource spend, reallocation of work and hiring needs.
Self-service portal and knowledge base
We understand how busy legal teams are, and when you have recurring basic requests, this can take up a lot of valuable time. With HaloITSMs self-service portal, ticket logging is reduced as your end users can serve themselves.

Your legal firm or department can gain freedom with a fully customisable, white label portal to create an extension of your brand. End users can access their requests, raise tickets and find solutions from knowledge base articles. Control the information they see and actions they can do depending on the user.

Reduce repetitive queries with our self-service portal
Utilise the knowledge base by providing solution based articles
Automatic suggestions when end users type in queries
Create dedicated content with keyword indexing, rich formatting and file attachments
Close P1 and P2 quickly with canned responses.
A complete history
When working in the legal field, you can never be sure if a legality will arise again, even if this is years later. It's necessary for a full history to be available in one centralised system in order to achieve the correct resolution in a timely manner. Without this, customer satisfaction is reduced and it can become hard to resolve issues.
Log all mail, telephone communications and general updates in one place
Investigate root cause of issues
Deliver expert problem resolution
SLA Management
SLAs need to be met in order to avoid legal conflicts. With HaloITSM, you'll never violate an SLA again with our SLA Management facility. Create multiple and customisable SLA groups, timings, priorities and descriptions for response and resolution times. Experience automated escalation rules and emails to communicate effectively throughout your organisation.
Transparency over the exact timing the service will be delivered
Avoid misunderstandings as to what is being done
Help guarantee a satisfied customer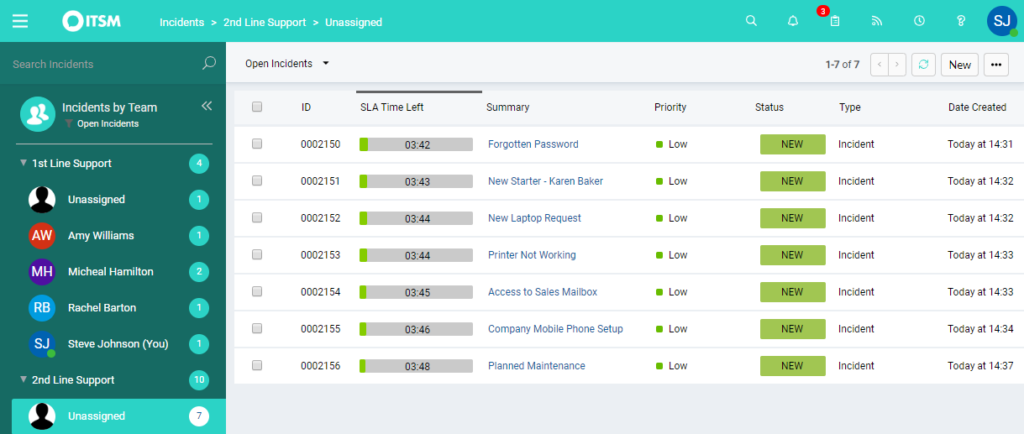 Want to see HaloITSM in action?
Book 30 minutes with a member of our team to find out how we can help you
Identify
Track your assets and visualise dependencies between configuration items. Identify and log incidents and problems against assets and identify systemic failings prior to causing major incidents.
Manage
Easily manage incidents and meet SLAs through HaloITSM's ITIL-aligned incident management. Automation of workflows and centralising communications has never been easier.
Analyse
Share a live view of all projects on the go to gain clarity and visibility. This simple dashboard updates automatically, so you can keep track of projects and make resource spend transparent.

Resolve
Escalate and automate the management of ongoing problems, investigate root causes of issues, and achieve in-depth resolution.

Control
Control what is sold to your customers. Track dates and documents, or go further and work out what is billed, where and how in accordance with contract data.
Learn
Build your knowledge base by turning solutions into articles. Increase productivity and make information easily accessible with the ability to share knowledge and canned responses.
Save Time
Automate workflows and centralise communication to easily manage incidents and meet SLAs with ITIL-aligned incident management
Reactive to Proactive
Increase productivity and make information easily accessible by sharing knowledge and canned responses in the Knowledge Base.
Empower End Users
Create an extension of your service with the self-service portal. Reduce costs, increase productivity and share knowledge
Customer Satisfaction
Never breach an SLA again. Experience less disruption by automating escalation rules and emails to communicate effectively.
Exceptional Service
Solve issues faster by aligning IT to the business needs with a simple, fully configurable system.
Standardise Processes
Improve efficiency and achieve top service delivery with ITIL-aligned frameworks.
Collaborate Easily
With one centralised system it's never been easier to stay connected, keep to deadlines and manage projects effectively.
Cost Per Ticket
Utilise automation, problem and change management, the Knowledge Base and more to reduce the cost per ticket.
All Modules as Standard. Unlimited Usage.
Keep things simple. Powerful ITSM with tailored support from Experts.